About the Proud Spirit Horse Sanctuary
Sometime back in the early 90's, author and founder of Proud Spirit Horse Sanctuary, Melanie Sue Bowles stumbled across this quote: "The Purpose of Life is to Live a Life of Purpose". She loved it so much that she stenciled the quote above a window that looks out over the pastures at Proud Spirit. It is the steadfast philosophy by which she has lived her entire adult life and unwanted, elderly and abused horses became her purpose. The sanctuary began with one horse in need on five acres of land in rural Florida and is now located on 180 acres in Wilkesboro, NC.  Throughout the years, Melanie and Jim have intervened on behalf of over  300 downtrodden horses, many of them coming to the sanctuary to live out their lives in peace and dignity – a life that most of these sentient creatures had never known before.
Jim and Melanie Bowles, the founders of Proud Spirit Horse Sanctuary, are deeply committed to the horses in their care. "The Sanctuary is the culmination of years of hard work and all the dreams and visions we've had for nearly three decades," says Melanie. "One of those visions was to provide as natural an environment for the horses as possible. Domestication has created so many problems…founder, colic, vices…problems that you never see in the wild. It was essential to Jim and to me that we place just as much emphasis on the horses' emotional well-being as we do their physical needs."
The horses at Proud Spirit are never stalled. They function as a herd with no cross fencing, safe in the companionship of other horses…something they so desperately need. They have room to move about, and to graze and roam… which they need to thrive.
One of the very few true sanctuaries in the United States, the Bowles do not adopt out any of the horses who find their way to Proud Spirit, "having given enough," as Melanie would say.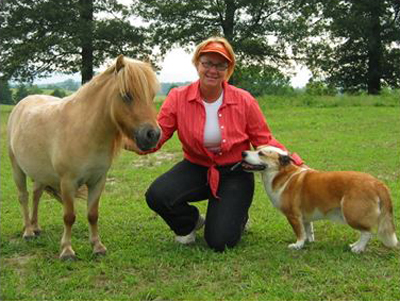 Over fifty horses live at the Proud Spirit Horse Sanctuary
Melanie and Jim need your help to keep the horses cared for.  Anyone who has a horse knows that ONE is costly. 
Your donations are greatly appreciated and tax deductible.  
Proud Spirit Horse Sanctuary
302 Clint Johnson Rd.
Wilkesboro, NC 28697
Proud Spirit Horse Sanctuary is a 501c3 nonprofit organization.
Federal Tax ID #65-1103738
Your contributions are tax deductible.
Thank you for your support!